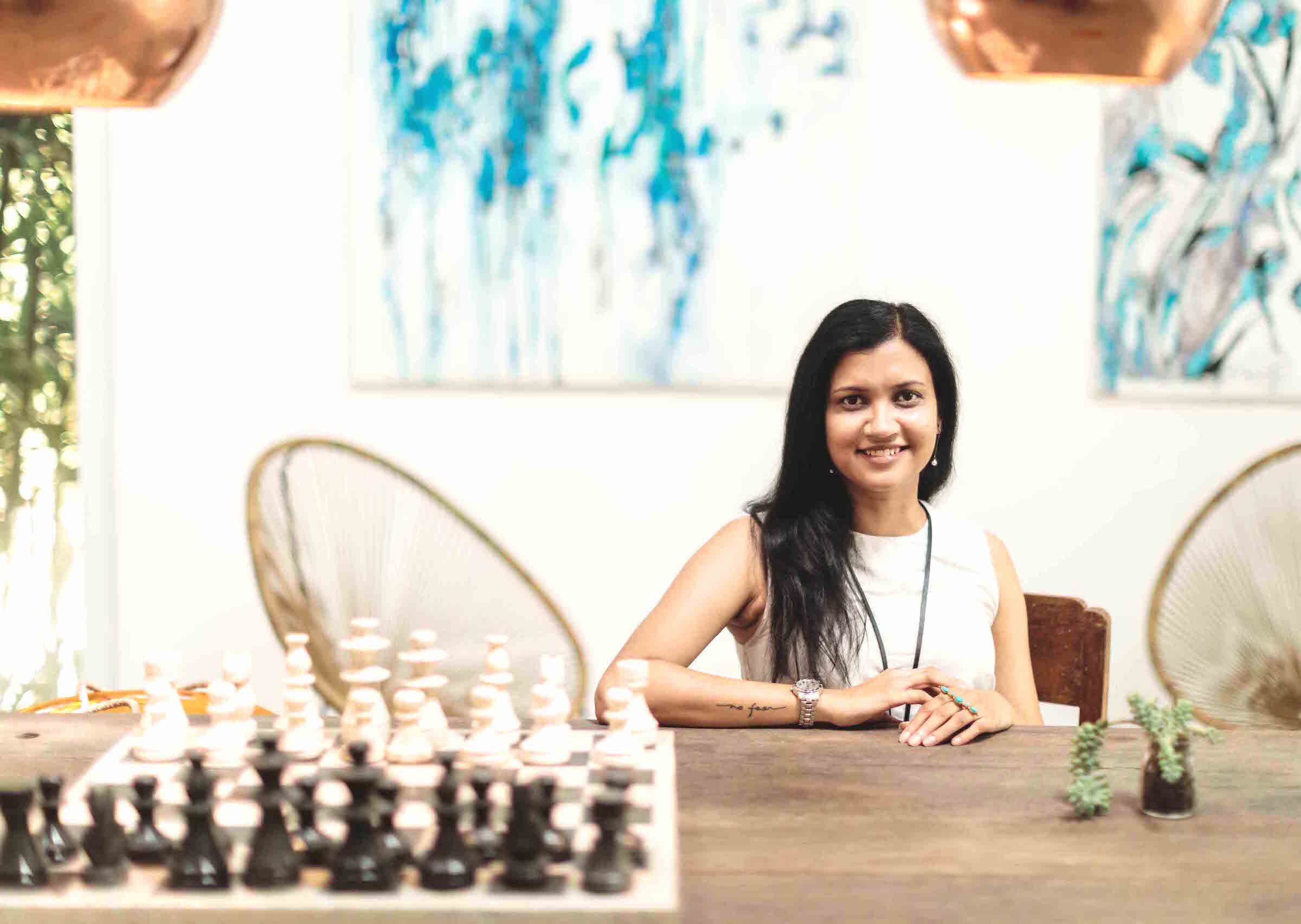 Nistha Tripathi
Bestselling author of UNSTARTUP, NO SHORTCUTS, FUTUREPRENEURS and SEVEN CONVERSATIONS
Founder of SCHOLAR STRATEGY
"Unstartup needs to be read by every founder"
– Deepinder Goyal, Founder and CEO, Zomato
"Nistha has been able to bring out the essence of what makes Unacademy an excellent case study for new-age Internet startups"
– Kunal Shah, Founder and CEO, CRED
"Nistha's first-person stories make vivid the effervescence that characterizes entrepreneurship in modern India" – Prof Tarun Khanna, Harvard Business School
connect with me on
About
Nistha is on a mission to make business books interesting to read. Her latest book Unstartup chronicles the unconventional strategies that transformed a simple YouTube channel into a $3.5B startup, Unacademy.
Prior to this, she wrote Futurepreneurs that shared the stories of 10 most exciting Deeptech and AI startups in India. She is known for her bestselling book No Shortcuts that featured 15 successful Indian entrepreneurs because she was tired of turning to Silicon Valley books for advice on building startups in India. No Shortcuts went on to receive the 3rd best business book of the year award in 2019.
Previously an engineer from University of Illinois and MBA dropout from New York University, Nistha worked on Wall Street and with a few fast-growing startups in Manhattan where she developed a taste for business strategy. She organized NYU Stern's first Entrepreneurship Summit that featured the likes of Seth Godin and Chris Dixon. After returning to India, Nistha founded India's leading career consulting community – Scholar Strategy. It has helped 600+ applicants get into top MS and MBA programs in the US including MIT, Harvard, and Stanford. As of today, she is an active career coach (certified with NeuroLeadership Institute, USA), acclaimed author and a prolific speaker. She has given talks at leading startup events and college startup fests.
Her first novel, Seven Conversations, interpreted Bhagvad Gita in a modern context and gathered rave reviews. With 120,000+ followers and 16M+ views on her answers on the popular American QnA based website, Quora, Nistha writes extensively on careers, entrepreneurship and pursuing one's passion.
She was recognized as a Top Voice on LinkedIn in 2022 and Top Writer on Quora in 2018 and 2016. Her articles have appeared on Entrepreneur, Times, DailyO, DNA, Tribune and other leading media outlets.
Apart from running Scholar Strategy, she conducts aspirational talks for students and writing workshops for bloggers.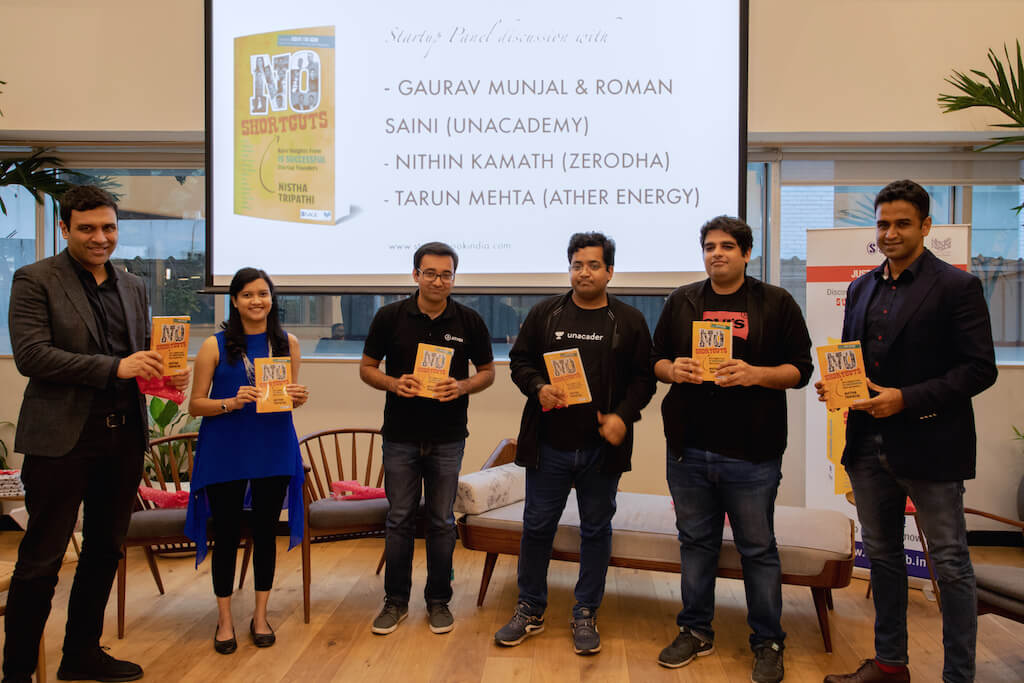 I worked with Nistha for several years – she has a tremendous intellect and a fearless entrepreneurial spirit.

– Ken Wilson, CEO, Tower Research Capital Markets
Books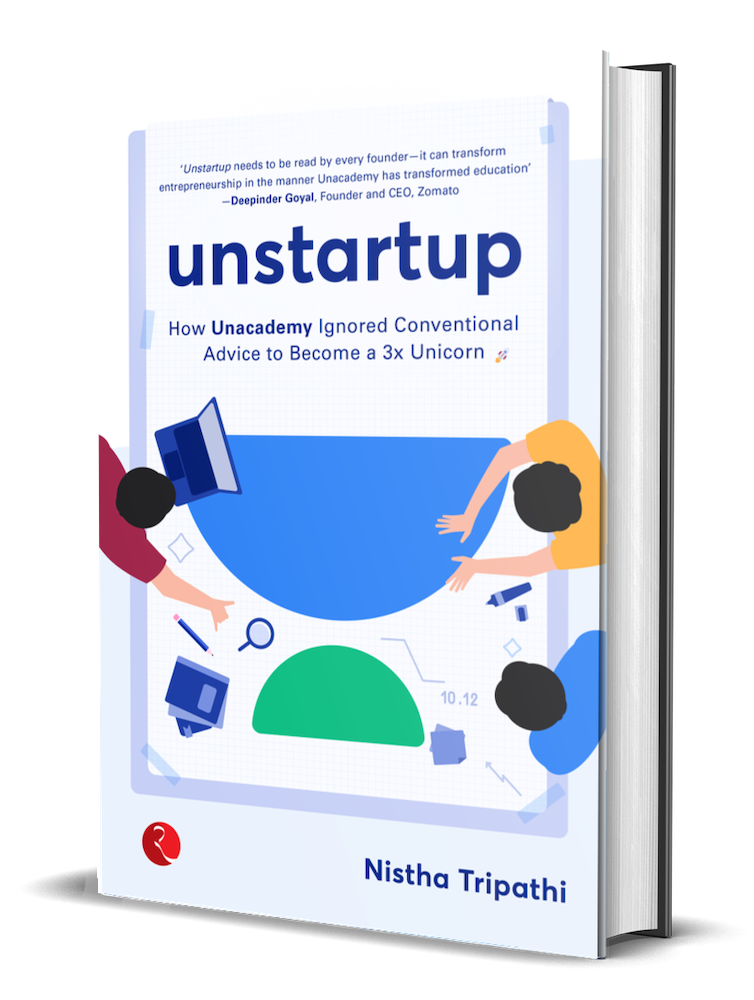 How did a nondescript YouTube channel become a unicorn startup?

The journey started when Gaurav Munjal and Hemesh Singh quit their jobs at CommonFloor and Roman Saini quit the Indian Administrative Service to start a YouTube channel that helped students prepare for competitive exams. Six years and 49 million users later, Unacademy has changed the way Indians learn and also democratized access to high-quality education.

If COVID-19 was a trial by fire for every industry, edtech was one of the sectors perfectly poised for a boom. Many online education startups were in the fray but only a few survived. Unacademy not only outsmarted the competition, but also surpassed every projection and created a new yardstick of success, becoming a $3.5 billion valued edtech startup.

In Unstartup, bestselling startup author Nistha Tripathi traces the gravity-defying ascent of Unacademy. Drawing on numerous conversations with people in and around Unacademy including its founders, board members, advisors, current and ex-employees, Nistha takes the reader through a page-turning rhapsody of startup strategies and lessons. These insider accounts and anecdotes reveal the day-to-day thinking, decisions and discipline of a unique (un)startup.

Reams have been written about the glitz surrounding startups, but it is the daily grind, small choices and critical pivots that no one tells you about. Unstartup offers a ringside view of how Unacademy ignored conventional advice and created its own playbook for success.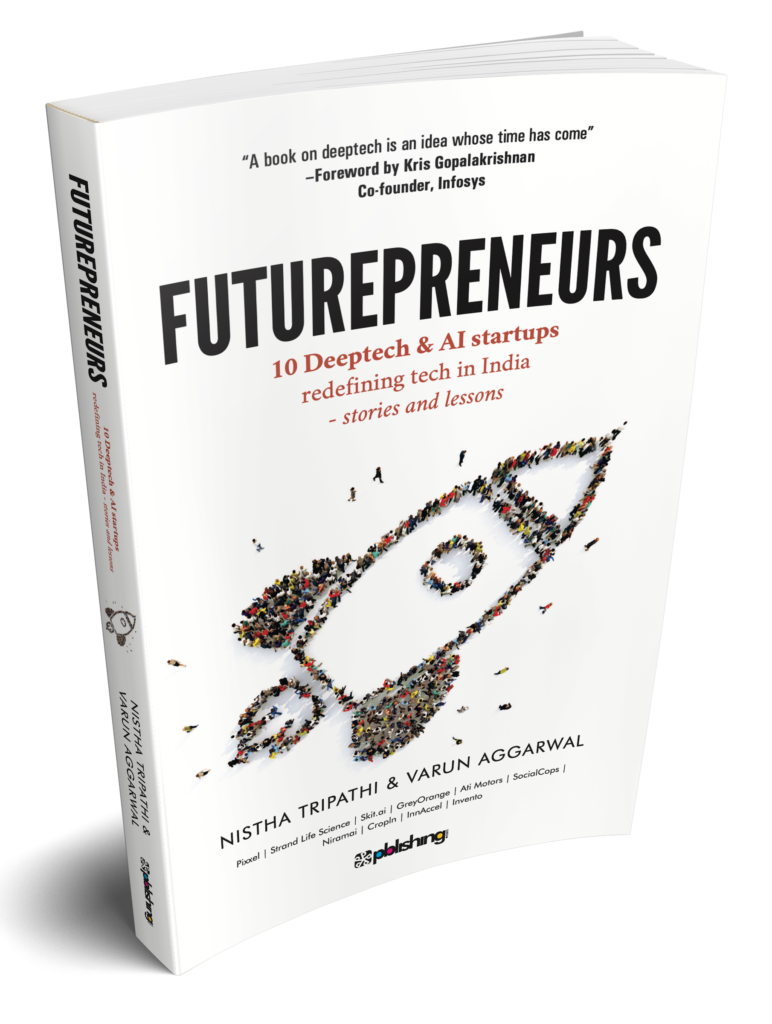 10 DEEPTECH & AI STARTUPS redefining tech in India – stories and lessons
A constellation of imaging satellites that can detect something as small as gas pipeline leaks. An intelligent customer service voice bot that can mirror your language and accent. A portable breathing device that can save lakhs of infants who die on their way to reaching an ICU.
No, we are not talking about Silicon Valley – these are all Made in India startups.
The book shows how successful deeptech and AI startups can be made in India and gives a primer on the complex sounding technologies that power these startups. A must read for anyone who is passionate about startups and technology.
Featuring the never-heard-before interviews of co-founders of Pixxel, Strand Life Sciences, Skit.ai, GreyOrange, Ati Motors, SocialCops, Niramai, CropIn, InnAccel, and Invento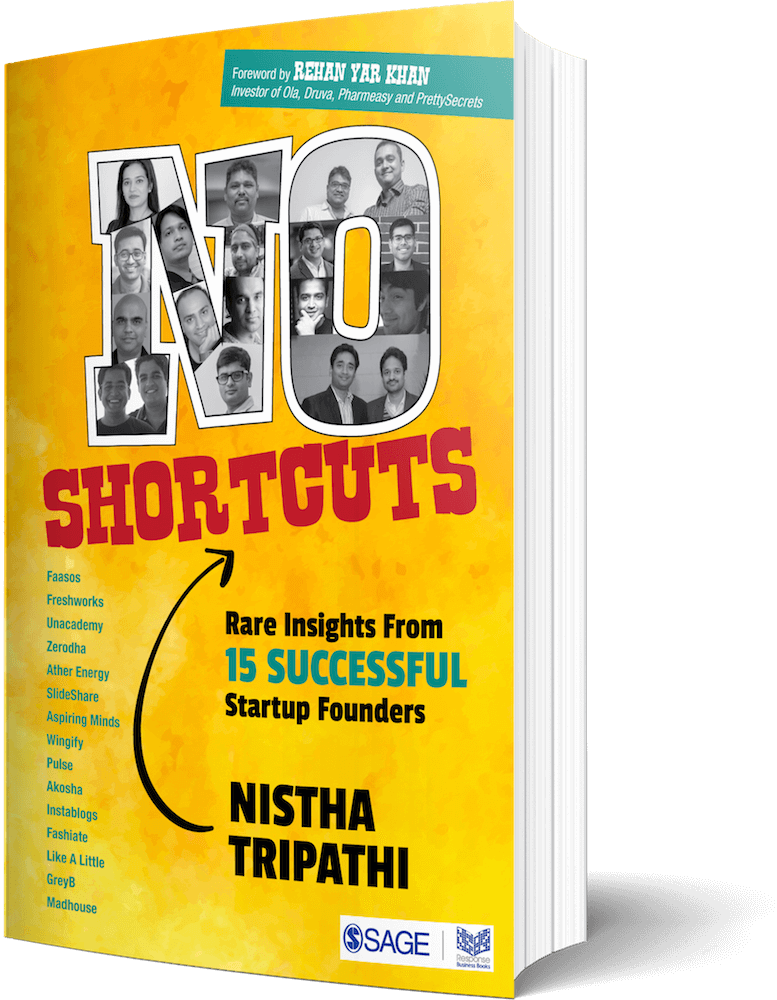 No Shortcuts features remarkable 'one-on-one interviews' with 15 successful and ambitious founders of India
Where so many mortals fail, what makes few entrepreneurs tick and make their mark in history?
This curiosity led Nistha to pursue those who rose from humble beginnings yet making a dent in the big startup universe. This book is a record of that eighteen-month journey.
In her incisive one-on-one interviews with 15 ambitious founders of India including Girish Mathrubootham, Nithin Kamath, Jaydeep Barman, Gaurav Munjal, Tarun Mehta and others, Nistha uncovers the decisions and insights that led these startup founders to find their unique roadmap to success.
Read the never-heard stories of Freshworks, Faasos, Unacademy, Zerodha, Slideshare, Pulse, Aspiring Minds, Madhouse/Morpheus, Akosha, Ather Energy, Instablogs, Greyb, LikeaLittle, Wingify and Fashiate.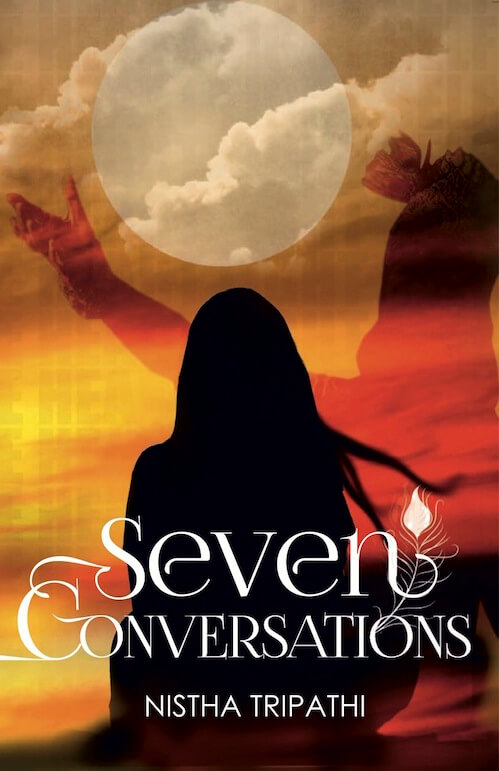 Seven Conversations is a thought experiment on life and existence. The characters might be fictitious but their questions are not.
For Meera Sachdev, choosing a divorce at an early age of thirty over comfortable and convenient life was a leap of faith. Leaving her successful career and friends behind in United States, she returns to India where she is now reduced to 'a failed woman who could not save her marriage'. As she begins to ask the real meaning of life, her call for help is answered by none other than Krsna – the Lord who is all-attractive. Her odyssey will take her through temples of Vrindavan, a deserted land and Himalayas as she discovers her deep spiritual roots.
In seven pivotal conversations with Krsna, friends, father, teacher and herself, she rediscovers life, love and her own identity. Beware, after reading the book, you might dare to choose happiness yourself. Are you prepared?
---
AS SEEN ON